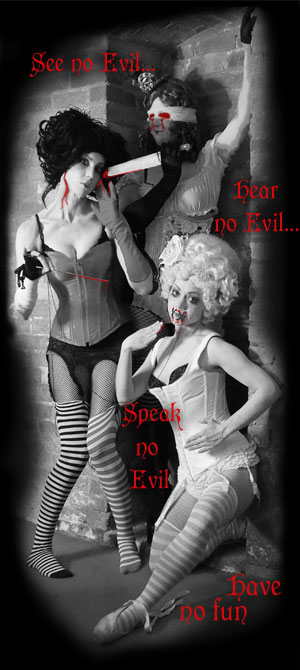 The Haunted Bordello
Two Nights Only!
There's a red light on at the old red Victorian on the hill. Many years ago, on a dark October evening, something bad happened in Port Townsend's finest pleasure palace. Join us for an evening of tantalizing fright you will never forget...
Information
Date: Friday October 18 & Saturday October 19
Time: 7pm to 10:30pm
Location: 313 Walker St. Port Townsend (Directions)
Price: $10 cash only
Parking: We recommend parking at the Jefferson County court house
Goodies: Concessions will be available for purchase
Spend the night?: Here
The Details...wherein reside the devil
Must be 17 years old to enter, no exceptions. If you appear less than 25, bring ID.
No, it's not a real bordello. They're actors.
Under no circumstances may any guest touch the actors. Doing so will result in your immediate removal from the premises without refund. Neither will anyone touch you, sorry.
If you appear intoxicated you will be denied admission. We reserve the right to refuse admission to anyone.
No photography, weapons, or smoking permitted on the premises (inside or out). A staff photographer may be present to take pictures for a small fee.
You may be asked to remove bulky costumes or masks that obstruct your vision for your own protection and that of the property
We've got strobe lights, artificial smoke, steep stairs, graphic scenes of violence with sexual content that may offend some guests.
If you are disturbed by skin, sin, or scary then this probably isn't for you.
Port Townsend's Haunted Bordello is a guided tour. It is our pleasure to offer you a titillating and terrifying entertainment. One intimate group of three to five guests will be admitted at to the house at a time. We appreciate your patience.
A Night at the Bordello
Time was men lined up to glimpse the girls passing in front of a window. Today those windows are boarded shut and no one would be mad enough to spend the night in the old place...
...or would they?
Spend the night at the Old Consulate. A few select rooms are available on Oct 19 & 20 at Old Consulate Inn for a discounted rate. Join the cast for (late) breakfast.